Mailmark Benefits and Extras
Mailmark Benefits and extra bring features that you could benefit from. To benefit from Mailmark you will need a Mailmark Franking Machine. Mailmark Franking Machines are needed in order to print the 2D Bar Code. The 2D Bar Code frank will allow access to Mailmark Benefits.
Mailmark Benefits.
Mailmark will allow you to reduce your mailing prices even more. Lower than both stamped and franked mail. Allow your company to do more with your mailing budget.
Postage price change updates.
Update your postage prices on the same day as Royal Mail changes them. Almost instant Postage price updates. Direct from Royal Mail so you know there wont be any mistakes.
You can finally fully drop the Analogue line. For a LAN Connection. A LAN Connection will allow for greater speeds. Making life easier and quicker.
Present the most Professional Image. Requires a Mailmark Franking Machine. This will help increase customer responses. And Modernize your Presentation.
Offering the chance for a new business reply. A New Reply can increase responses. It could even greater your profits.
Along with Mailmark will come a new mail reporting Web App. Mailmark online reports will show real time information. Allowing you to keep a closer eye on your mail.
Many More Benefits to come!
We will continue to update this page. As more Mailmark Benefits are announced. Mailmark Benefits will increase as Mailmark's popularity increases. Mailmark is an alternitive to the current. The current Frank will still be valid.
Mailmark benefits – New Mailmark 2D Bar code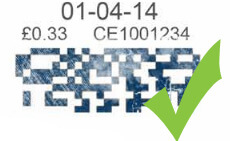 To read more about Mailmark and Mailmark benefits click here. Or Here to hear from the Royal Mail. Click here for a prepared guide just for you. Stay up to date and follow our franking machine blog. To get mailmark ready click here. To get advice from a Royal Mail Authorised Independent Inspector & Maintainer click here.
Get a Mailmark Franking Machine Quote
Mailmark Franking Machines
List of Mailmark Franking Machine by Category;