Get a Mailmark Quote!
Just fill in the form below and get a mailmark quote within hours.
We promise to give the best quote. Our quotes are specifically designed around you.
Get the perfect mailmark quote
Our mailmark quotes are specifically designed around you the consumer. We promise to offer the cheapest mailmark quote.
Here are 3 benefits you could get if you fill in the Mailmark quote form.
A price reduction. Allowing you to reduce your mail costs. Make more out of your Mailing Budget. Mailmark benefit - #1
Immediate postage rate change with royal mail mailmark. Get your postage rate changed the same day royal mail do. Mailmark benefit - #2
Brand New Business Reply. Enchance responses and therefore profits with mailmark. Mailmark benefit - #3
These are only a few of the mailmark benefits you can recieve.
For more information on Mailmark benefits click here.
So what you waiting for? Get a quick mailmark quote
Mailmark quote - Mailmark info
Mailmark is a new initiative by the Royal Mail of which the Royal Mail have invested £70 million. Mailmark is soon to be available via a Mailmark compatible franking machine which would be an alternative to the current franking impression. The new Mailmark Franking impression will allow access to multiple benefits. Mailmark franking machines are needed to print the new Mailmark Franking impression which would be a 2D Barcode.
To read more about Mailmark by the Royal Mail Click here.
To get a free Mailmark quote fill in the form above or click here. Click here for a mailmark quote from a Royal Mail Authorised Independent Inspector & Maintainer.
For a guide to better prepare for mailmark click here. Click here for a independent Mailmark Guide.
Remember we will answer any Mailmark quote.
Mailmark quote - Image
Here is a image of the new Mailmark 2d Fran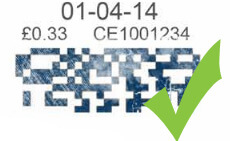 We promise to help with any Mailmark Enquiry
Still Unsure? Go on get a mailmark quote